See Rembrandt in Holland? Find your accomodation at camping site Heeg!
Why not relax a few days in the Holland Lake District in Friesland, in a quiet, picturesque region with green meadows, blue lakes, charming small towns, high skies and black-and-white Friesians. Rembrandt knew Friesland well and found his wife Saskia here. Our camping is only 1.5 hours from Amsterdam and the "Randstad", where you can enjoy Rembrandts paintings in the Van Gogh and several other museums during the Rembrandt 2006.
Camping Heeg warmly welcomes you!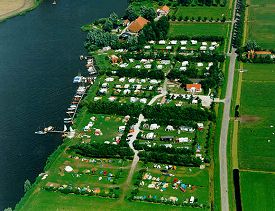 Camping Heeg
"Watersportcamping Heeg" is a cosy campsite with excellent sanitation and a harbour of approximately 80 mooring places. Because of its unique location at a "private" pond with immediate connection to the Heeger lake, this campsite is ideal for real aquatic sportsmen.
Nearby the campsite is the aquatic village Heeg. At only a 10 minutes walk you will find yourself at the centre of thes characteristic village. The village has several excellent shops and places of entertainment.
If you are a enthousiastic sailer than you'll find that "Watersportcamping Heeg" has lots to offer you. Just rig up your yacht at the landing and sail away! The far stretching ponds offer you hours of sailing pleasure and above all the Heeger lake is just a blow away. The central location of the lake makes it ideal to start daytrips to several Frisian cities and villages, all with their own character.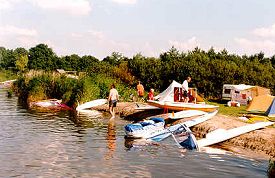 Surfers won't feel bored for a minute at "Watersportcamping Heeg". Because of the special surf beach surrounded by great surf water, "Watersportcamping Heeg" is the place for a starting surfer. The more advanced surfer will have a blast at the Heeger lake.
Even a fisherman will have the time of his live at "Watersportcamping Heeg". While sitting at one of the four landings you'll find yourself fishing gantastically. Or would you like to have some peace and quiet, this is also possible at the Frisian Lake district, just grab a rowing boat. Within 10 minutes rowing you'll find yourself at the Rintje pond, just the place for you and your fishing rod.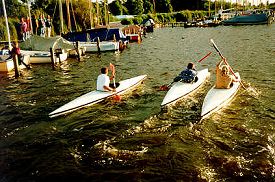 EA growing number of canoe-lovers discover "Watersportcamping Heeg" as their startingpoint for extendend canoetours. For this form of aquatic sport the wide ponds and canals are a true "Eldorado".
Take for instants the tour to the nearby village Oudega. While gliding smoothly through the canals passing the typical Frisian farms you reach Oudega. Through another, as beautifull as the first, route you can canoe back to Heeg.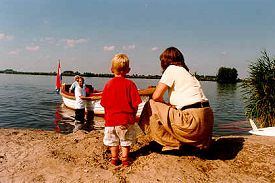 Especially for families with children is the "Watersportcamping Heeg" a perfect holiday-adress. Because of its protected location at a "private-pond" (no possibility for passing pleasure or professional yachts) the children are able to sail or surf without any fear. And the smaller ones are able to play at several playgrounds and a children's beach.
The other three Friesland watersport campings also warmly welcome you!